Tues, May 2 @ Noon
Ross School of Business,
B5570 Blau Hall

Wed, May 3 @ Noon
Zoom

Thurs, May 4 @ Noon
Dearborn Room
UM Detroit Center
Are you a nonprofit organization in Southeast Michigan that is curious about the Board Fellowship program? Graduate student Fellows serve as non-voting board members during the academic year and complete a strategic project that can provide valuable capacity in areas such as strategic plan implementation, sustainability strategies, business plans, and dashboards. These sessions provide an overview for prospective organizations interested in participating during the 2023-24 academic year. Learn about program benefits, structure, and application process.
---
FROM THE +IMPACT STUDIO:
Pop Up Docs in Detroit
Latest News from the +Impact Studio
Not surprisingly, the +Impact Studio is always generating a buzz and ideas. Below are some of the latest posts from the +Impact Studio:
---
As we reach the end of the academic year, our +Impact Studio class held a Demo Day featuring prototypes from student teams to address how urban business can adopt, promote, and benefit from the green energy transition. See the students' How-To Guides from earlier this semester at GreenBizTransition.com. See photos from the class's entire journey here.
---
Tues, May 18 @ Noon ET
Online

The Inflation Reduction Act of 2022 includes $500 billion in new spending and tax breaks targeted toward climate change, clean energy, training and workforce development, the development of clean infrastructure, and more. Take part in a free lunchtime virtual event where a panel of four experts including Jerry Davis will help you understand what opportunities are available to help you build your business and create generational wealth.

Register Here
---
In 2020, the British energy group BP pledged to decarbonise its portfolio, cutting oil and gas production by 40% from 2019 levels by 2030 and channelling billions of dollars into wind and solar projects. Then, in February 2023, the company stunned observers by retreating from these lofty goals — promising shareholders it would invest heavily into oil and gas projects and recalibrating its oil and gas reduction goal from 40% to 25% by the end of the decade.
---

We're Hiring Two Student Employees for Fall 2023
Business+Impact is hiring two students to start in Fall 2023!

One position is the Give-A-Day Fund Campaign Director. The Campaign Director serves as the student leader of GADF. This position will collaborate with Ross staff, promote the GADF to fellow MBA students, and lead all communications with peer donors. This role pays $20/hr and reports to Haley Phillips, Student Program Manager for Business+Impact. — Apply here

The other position is a Web Designer for the Impact Gateway. This WordPress-skilled student will manage listings for events, courses, co-curriculars and volunteer opportunities listings on the Impact Gateway throughout the academic year.  This role pays $15/hr and reports to Glenn Bugala, Marketing Manager for Business+Impact. — Apply here


The Business+Impact Gateway provides you with a single location for all things impact. Here you'll find all of the activities, people and key partners working to use their learning to make a real impact in the world.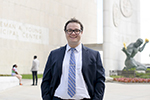 Summer Impact Internship Funding Application
Apply today!

Each summer, Business+Impact awards competitive grants for summer internships to MBAs and BBAs in the Ross School of Business as well as MPP students in the Ford School of Public Policy.
 
The application for these monetary awards is open and will be considered on a rolling basis until today, April 18th at midnight. Award decisions will be based on the level of need (taking into account other funding being received), consideration of the position, the organization's impact, and the quality of the application.

Apply today!
---

Congratulations all 2023 graduates!
We at Business+Impact have come to know many students at Ross and across campus through our programs and partnerships. We will miss all of you graduating students, but we're excited to see the impact you make in your careers, and we wish you all the best. Keep in touch with B+I by joining our LinkedIn group, and we hope to partner with you sometime in the future.
---
B+I Collaborates with Nonprofit Leadership Alliance to Present Webinar on Student-Nonprofit Partnerships
Join Annaliese Fowler and Haley Phillips of B+I for a webinar on leveraging the power of nonprofit-higher education-student collaborations. Discover what each group can offer, and how these strengths can meet each other's needs. We will focus on how higher education  can support nonprofits, and how this greatly benefits students with an interest in social impact. This symbiotic relationship will be exemplified in this session through B+I's own Nonprofit Board Fellowship Program.

REGISTER FOR EVENT
---
Student Loan Repayment Program for Full-Time MBA Alums in Social Impact Careers
Through the Impact Advantage Program, alumni of the Michigan Ross Full-Time MBA Program (2021 grads and after) who pursue a career in the public or nonprofit sectors can apply for student loan repayment assistance. For those graduates accepted into the program, Impact Advantage will cover a portion of their Ross-related loan obligations — up to $7,500 per year for five years — while they are employed full-time at a social impact organization.

Applications for this program will be accepted in October 2023, but all of you upcoming graduates should save the date!

More info
At the University:
GINSBERG CENTER

Apply now!


All graduating students!  The purpose of these cords is to recognize students at graduation that have — through direct service, activism and advocacy, or other forms of civic engagement — helped address or make positive change around a specific social issue in partnership with economically or socially marginalized communities beyond campus.

More Info
 
---
CEW+

Wed, Apr. 19 @ 2-4 pm
330 E. Liberty St. Ann Arbor


This informal event strives to provide community and engagement for students, professionals, job seekers, or anyone looking for career support. The goal is to create a casual, welcoming environment for people to find resources, guidance, and fellowship with people from all stages in their careers. After an initial presentation, the event will be open-house style and participants may come and go as their schedule allows.

Register here
---
ENGAGED MICHIGAN

Submit by Fri, Apr. 28


The Engage Detroit Workshops grant program supports small groups of U-M faculty and staff members with a faculty lead in organizing a workshop, speaker series, or similar event centered on a topic relevant to Detroit communities. The Vice Provost for Engaged Learning (VPEL) will provide financial support for up to four workshops or seminar series in the amount of up to $15,000 per awarded workshop or speaker series proposal.

More Info
---
CEW+
Apply by Wed, May 3


The CEW+ Scholarship Program, which today serves women and underserved students, was established in 1970 to honor the academic performance and potential of women whose education has been interrupted and to commemorate the one-hundredth anniversary of the admission of women to the University of Michigan.  With support from our generous donors, CEW+ was able to expand the program in 2008 to include additional scholarships for students of all genders. Please check eligibility.

More Info
---
UNIVERSITY OF MICHIGAN RESEARCH

Apply by Thurs, June 1


The OVPR Anti-Racism Grants aim to catalyze innovative research and scholarship efforts that will advance knowledge and understanding around complex societal racial inequalities that can inform actions to achieve equity and justice.  For each program cycle, OVPR will provide funding for up to seven proposals – five at level 1 up to $50K and two at level 2 up to $100K.

More Info
---
PLANET BLUE
Planet Blue Student Leaders (PBSLs) work part-time in Student Life as peer educators to promote sustainable living behaviors. These positions will start remotely in mid-August and begin with in-person activities in Ann Arbor the week of August 28. To be considered for this position, candidates must be able to attend weekly team meetings in-person on Fridays 11am-1pm in West Quadrangle for the full academic year. Compensation starts at $15 per hour.
---
In the Impact Community:

Wed, Apr. 19 @ Noon-1:30 pm ET
Online


Centering Justice (CJ) is a virtual space to find and share inspiration for racial justice and liberation. Here, we celebrate people, stories, and ideas to spur community-centered action. We uplift BIPOC leaders who are already dreaming, healing, reflecting, and moving us forward. We address the entangled social justice issues of race, gender, and class. And we offer calls to action that turn us towards systemic change, together.

Register Here
---
Apply Now


Public Allies Metro Detroit is a program of the U of M-Dearborn, and a proud member of the AmeriCorps national service network. The program is made possible through funding of the Corporation for National and the Community Service and Michigan Community Service Commission. Apply now for fall opportunities.

Application Info
---
Net Impact's 2023 Sustainable Cities Impact Investing Challenge asks teams to build and submit an impact investing portfolio aligned with the United Nations' Sustainable Development Goal  (SDG) 11: Sustainable Cities & Communities. Developing cities with affordable housing, reliable public transportation, and resilient infrastructure is key to building a more just and sustainable world. Impact investing creates an opportunity for investing to provide both financial and impact returns. 
---

Early Deadline: Sun, May 14 @ 11:59 pm PT
Regular Deadline: Sun, June 4 @ 11:59 pm PT
Can you design a new business or NGO that delivers a proven poverty intervention at scale? Submit your design for a new organization that solves one of our Distribution Challenges below. We will award the most promising teams with up to $20,000 USD to launch their new organization wherever extreme poverty exists. Subject areas include Health, Water, Education, Agriculture, Livelihoods, and Public Services.
---

May 10-12, 2023
Sheraton Grand, Los Angeles
Registration is now open for the 2023 Climate Leadership Conference.  This is a solutions-oriented program that allows participants to connect and collaborate with sustainability professionals across sectors. Attendees will build business connections, gain new insights and collaborate with national leaders.