Welcome to our 2022-23 Board Fellowship participants! This year's Board Fellowship Program brings together 25 partner organizations and 38 students from six U-M schools. The Fellows will serve on the governing boards of these partner organizations for the academic year and complete a strategic project by April 2023.
---

The +Impact Studio kicks off an exciting academic year and welcomes its newest cohort of Founders and Applebaum Impact Design Fellows! Hailing from eight different degree programs across campus, this dynamic group of social innovators is the largest, with the broadest range of skills, backgrounds, and experiences to come! While the Studio seeks to advance all facets of impact, this year's efforts will be geared towards advancing ideas that address climate action and/or diversity, equity, inclusion & racial justice (DEIRJ).
---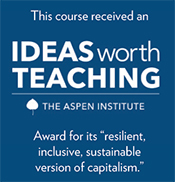 The +Impact Studio graduate course BA670 prepares students to be architects of an equitable, just, and sustainable future. In this award-winning interdisciplinary course, you'll gain a mindset, a process, and a set of tools and experiences for designing new and equitable models for business. In Winter '23, the +Impact Studio course will focus on a just energy transition. Innovations in financing and technology have dramatically changed the costs of launching enterprises such as solar microgrids, and the recent Inflation Reduction Act greatly increases potential funding for renewable energy. We will be engaging with neighborhood partners in Detroit to design feasible business models for green energy that support communities. The course is 3 credits, and will be offered to all graduate students on Wednesdays.
---
What do a world-famous jazz musician and a business school have in common? When it comes to the Ross School of Business and the +Impact Studio, far more than you might imagine! On Sunday, October 16th, the University Musical Society and the Ross School of Business +Impact Studio convened a one-day design jam to look at new ways of getting the arts into the hands of audiences through innovative uses of technology — using new tools and design methods to generate new formats and equitable access. This event was planned to coincide with a weeklong UMS residency with Wynton Marsalis and Jazz at Lincoln Center Orchestra.
---
The Ross School of Business Impact Advantage program provides educational loan repayment assistance to Ross full-time MBA graduates who pursue careers in nonprofit or public sector organizations.

Full-time MBA students like you who graduated in May 2022 or after will be eligible to apply for the Impact Advantage program and receive up to $7,500 per year for the first 5 years after graduation, towards Ross-related loan obligations. You must be in a full-time position at a public or nonprofit sector organization, and you'll need to reapply each year for re-consideration.
---


The Business+Impact Gateway provides you with a single location for all things impact. Here you'll find all of the activities, people and key partners working to use their learning to make a real impact in the world. 
Business+Impact (B+I) is pleased to announce that Summer Abiad (MBA '23), Connor Donnelly (MBA/MS '23), Harshita Pilla (MBA/MURP '23), and Joss Woodhead (MBA '23) are the recipients of the 2022-23 Skip and Carrie Gordon Scholarships for outstanding commitment to solving complex social challenges. The award comes with $7,500 for each recipient. Gordon Scholars serve as B+I Student Ambassadors for the 2022-23 academic year.

READ MORE
---
Forging a Career at the Heart of the Climate Challenge
Wed, Oct. 26 @ 7-8 pm
Robertson Auditorium
Ross School of Business

Business+Impact is cosponsoring an event with Net Impact Undergrad on the passion that drives an individual from engineering to environmental action. Gerry Anderson (MBA/MPP '88), former Chairman and CEO of DTE Energy will talk about consulting  at McKinsey, working with the Obama administration, leading DTE to embrace renewables, and more. Now he is deeply passionate about building Michigan's economy and continuing his environmental action in retirement.  

REGISTER HERE
---

Michigan Business Challenge – Seigle Impact Track Begins
Info Session
Mon, Oct 24 @ 6-7 pm
Room R0210
Ross School of Business

Problem Definition /  Root Cause Workshop
Wed, Oct. 26 @ 5-6:30 pm
Room B2560
Blau Hall

The Michigan Business Challenge Seigle Impact Track, with prizes totaling over $26,000, recognizes the business plan that best pursues a mission-driven goal. This track aims to stimulate the creation of new businesses, products or services that prioritize social and/or environmental considerations. The Seigle Impact Track is sponsored by the Mark and Robin Seigle Entrepreneurial Innovation Fund and co-managed by Business+Impact at Ross and the Zell Lurie Institute for Entrepreneurial Studies.

APPLY FOR THE COMPETITION BY TUES, NOV. 1.
---
Business+Impact Wins a "Doing the Most Good" Award from Salvation Army


These awards from the Salvation Army Great Lakes Division recognize those who exemplify an extraordinary spirit of service and collaboration. Our Board Fellows program was recognized for  "providing more than 20 board fellows to the Metro Detroit Advisory Board." Members of the program have served and completed projects making a huge impact on The Salvation Army. B+I's Cat Johnson and Haley Phillips were in attendance to receive the award at the Metro Detroit Advisory Board Civic Awards dinner.

READ MORE
---
At the University:
GLOBAL CO2 INITIATIVE
Apply Now
Whether you want to attend meetings, lead a project, or access the community that the Global Carbon Initiative Student Association offers, we're excited to have you! Our sponsoring unit, the Global CO2 Initiative (GCI) at the University of Michigan, is also dedicated to reducing carbon emissions via sequestration and reuse of carbon dioxide in a new circular carbon economy. 
---
CENTER FOR SOCIALLY ENGAGED DESIGN
Apply by Wed, Oct. 19 @ 11:59 pm
Innovation in Action, cosponsored in part by Business+Impact, is a campus-wide challenge giving groups the opportunity, the tools, the people, and the room to take on the world's biggest challenges. To celebrate Innovation in Action's 10th annual program, we are giving our dearest program a refresh! We are accepting applications from Friday, September 30th to Wednesday, October 19th with our return to an in-person kick-off event to build excitement in early November.
---
CITIZEN'S CLIMATE LOBBY

Thurs, Oct. 20 @ 5 – 8 pm
Diag, Central Campus


Join us for a night of climate action on the Diag with live music and free food! Hosted on October 20, 5-8 PM by Citizens' Climate Lobby and Empty Mug Records, the event will feature performances by Kelly Hoppenjans, Ani Mari, and Big Chemical. Free pizza will be provided by VegMichigan and voter registration will be available through NARAL. Hope to see you there!
---
POVERTY SOLUTIONS

October 21 – Politics, Policy, and Poverty: Medical Debt and Other Financial Reforms

October 28 – Biodiversity, Coffee Production, and Dignified Livelihoods Under a Globalized Economy

November 11 – The Color of Power: The Evolving Relationship Between Race, Skin Color and American Politics

November 18 – Ensuring that Postsecondary Credentials Pay Off for Low-Income Students

Real World Perspectives on Poverty Solutions introduces key issues regarding the causes and consequences of poverty through an in-person lecture series featuring experts in policy and practice from across the nation. Our goal is to help build a broad community of learners to engage in these issues together.

Read about the entire series
---
GINSBERG CENTER
Thurs, Oct. 26  @ Noon – 1:30 pm
Online

Fri, Nov. 11 @ Noon – 1:30 pm
Online

All students, faculty, and staff are encouraged to attend this community kick-off to the fall semester. Join the SEAS/PitE community and welcome both old and new faces to the start of the school year. Socialize, have fun and enjoy a bite to eat.

Register for 10/26    Register for 11/11
---
GRAHAM SUSTAINABILITY INSTITUTE
Sat, Oct. 22 @ Noon – 4 pm
Michigan League
The purpose of the event is to foster relationship building between and among students and student organizations to promote successful advocacy, communication, and collaboration. There will be activities, workshops, and networking opportunities that strengthen the sustainability network on campus and spark thoughtful discussion and engagement. Please direct your questions or concerns to sustainability.coalition.core@umich.edu.

Register Here
---
GINSBERG CENTER
Application Due
Fri, Oct. 28 @11:59 pm
MAC-ASB is a student organization that supports students on service trips during spring break. We arrange a variety of different trips for participants to engage in meaningful work with charitable organizations around the country. Contact Lead Team with any additional questions via mac-leadteam@umich.edu.

Apply here
---
CEW+
Sun, Nov. 6 @ Noon – 3 pm
Rogel Ballroom
MIchigan Union
Please join CEW+ at U-M as we return to an in-person luncheon and celebration of our 2022-23 Scholar Community Award Ceremony. This event celebrates all CEW+ Scholarship and Fellowship recipients for the current academic year and is open to family, supporters, donors, and friends of the Center.  Registration will close on Wednesday, October 26, 2022, at 5:00 pm.

Register Here
---
In the Impact Community:
Information Sessions:

Tues, Nov. 1 @ 10-11am
Tues, Nov. 1 @ 6-7 pm


Now accepting applications for Response Team, Shelter/Helpline, Community Awareness, Front Desk Receptionist, Support Group and Teen Voice. We encourage you to attend one of our virtual information sessions to get more information
---
Dr. Andrew Hashikawa, is organizing several "Pop-up Safety Town" events in underserved communities, including Flint and Detroit. Volunteers are needed to join this effort, help with bike helmet fitting, distribute educational resources…etc.  Upcoming Safety Town events that are open to volunteers: Flint Head Start @ Cummings Elementary School (2200 Walton Ave G, Flint, MI 48532), 09/23 (Fri), 10am-1pm Detroit Marygrove Campus 10/19 (Wed) and 10/20 (Thu) – will likely be morning and early afternoon sessions. Email pop.up.safetytown@umich.edu to learn more and volunteer.
---
Tues, Oct. 25 @ 6 pm
1001 N. Orange Ave.
Orlando, FL
Join us on Tuesday, October 25, 2022, at 6:00pm for Rally's 10th Cohort Showcase at CREDO Conduit! For 16-weeks, our Fellows have been working hard to build sustainable ventures that create positive social change. During this event, you'll hear 3-minute presentations about their vision, work, and how you can assist them along their journey.
---
Wege Prize is an annual competition that ignites game-changing solutions for the future by inspiring college/university students around the world to collaborate across institutional, disciplinary, and cultural boundaries to redesign the way economies work. Participants contend for $65,000 (USD) in total cash prizes, all while learning—and helping to show the world—what the future of problem solving looks like.
---
Attend the Summit of Summits and hear from national and global leaders in the social enterprise sector, local movement builders from our local Chapters and inspiring stories from network partners about how their unusual business model enabled their stakeholders to survive and thrive in the last two years. Together we can learn from this innovative business model to create economic, racial and climate justice for all.

Register here
---
Regular Applications Due
Sun, Nov. 6 @ Midnight PT
Can you design a new business or NGO that delivers a proven poverty intervention at scale? Submit your design for a new organization that solves one of our Distribution Challenges below. We will award the most promising teams with up to $20,000 USD to launch their new organization wherever extreme poverty exists. Challenges include Health, Water, Education Agriculture, Livelihoods, Energy, and Public Services.

More info
---

Upswell Summit 2022, powered by Independent Sector, will advance our singular mission by offering thought leadership that wrestles with issues plaguing our nation, workshops and panels that will strengthen your institutional, personal, and professional development, as well as time to invest and care for the most important person in the work – you.  If you have any questions, please let us know at either info@upswell.org or 202-467-6115.